Nova Scotia FAQ's
Everything you wanted to know about Nova Scotia
We think Nova Scotia is a marvellous place to live, but, understandably, you have a lot of questions about this place you are considering making your new home or home-away-from home. Read on to find the answers to the most frequently asked questions about Nova Scotia. And if we haven't covered your concern or query, please email us!
Nova Scotia Fast Facts
| | |
| --- | --- |
| Population | 950,000 |
| Population density | 17.7 per sq. km. |
| Co-ordinates | Lat. 43 - 48° N /Long. 59 - 67°W. |
| Time zone | Atlantic, -4 GMT |
| Language | English |
| Currency | Canadian dollars |
| Industry | Fishery, tourism, forestry, agriculture, offshore oil and gas |
| Weather | Changes by area. See http://www.ns.ec.gc.ca/climate/ns.html |
---
Where in the world is Nova Scotia anyway?
Not too far. Not too close. Well within a few hours' plane trip of Western Europe, the United States and the rest of Canada, Nova Scotia's location is ideal for easy access by seasonal residents and visitors. For new permanent residents it offers convenience for business travel or visiting friends and relatives back home.

Located on the far Eastern shore of mainland North America, on a peninsula almost completely surrounded by water, we are sufficiently isolated to ensure you maintain the quiet, peaceful lifestyle you are looking for.

Nova Scotia is accessible by air, with an international airport located near Halifax, by vehicle via the Trans Canada Highway, or by car-ferry from Maine.

For detail buffs, Nova Scotia's coordinates are latitude 43 - 48° N and longitude 59 - 67°W. We are in a time zone almost of our own (Atlantic), putting us one hour ahead of New York and Toronto, four ahead of Vancouver, four behind London and five behind most of the rest of Europe.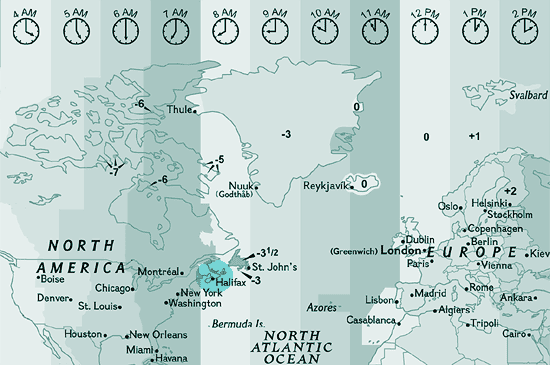 Find your way here with directions and maps from Map Quest or Google.

Calculate the distance to Halifax airport (YHZ) from any airport in the world.

An excellent road map of Nova Scotia.
---
What does Nova Scotia look like?
We are an island, almost! Connected to the rest of Canada by just a 28 kilometer/17 mile wide isthmus, you can expect to find everything 7400 kilometers/4630 miles of ever-changing continuous coastline would suggest. From spectacular beaches to rugged shores to craggy cliffs, the ebb and tide of the Atlantic Ocean dominates our scenery and way of life.

But there is much more. Nova Scotia is a land of beautiful lakes, rolling farmland and breath-taking highlands. Many of our highways and byways take advantage of the scenery as do thousands of properties. With tiny villages, picturesque towns and urban centers, Nova Scotia offers a truly diverse landscape.

Nova Scotia geography and more.

Destination Nova Scotia, a gallery of excellent Nova Scotia photographs.
---
What is the population of Nova Scotia and who lives there?
"Ciad Mile Failte - A Hundred Thousand Welcomes." As this Gaelic saying suggests, Nova Scotia enjoys a rich culture steeped in the traditions of her immigrant settlers. The native people of the province - the Mi'kmaq Indians - were first visited by Norse sailors and Basque fishermen.

Reports of an abundant fishery prompted a wave of immigrants, beginning in the early 1600s; first the French, then British, German, Swiss, Scottish, Irish and later Dutch, all made their way to the promise of Nova Scotia's resources.

In 2007 Statistics Canada estimates that over 936,000 people now call Nova Scotia home. That's 17.7 people per square kilometer/10.6 per square mile, compared to New York City with a population density of close to 3000 per square km/1800 per square mile.

Over the years, our people have done some migrating of their own, and as a result, Nova Scotia roots are not uncommon in many New England States, Western Canada and, subsequent to the Acadian Expulsion, Louisiana.

Population statistics by town or municipality.
---
What's the weather like in Nova Scotia?
If you don't like the weather, wait 10 minutes! Nova Scotians like to joke about the changeable weather, but in fact, our moderate climate is one of our most endearing qualities. Our provincial vehicle license plate says it best. As "Canada's Ocean Playground", Nova Scotia owes everything to the sea, especially its climate.

In the summer, temperatures average in the 70s Fahrenheit/20s Celsius - cooler on the coast, warmer inland - with gentle ocean breezes making it comfortable day and night.

Fog? Sure, it comes and it goes, especially through the late spring and early summer, but by mid August you can't find a nicer place to be. Warm days, clear skies, and stiff breezes make Nova Scotia a sailor's, painter's or photographer's paradise in the fall, which lingers on and on.

The Gulf Stream keeps our winters particularly mild compared to other parts of Canada. Inland snowfall is moderate, with coastal downfalls only occasional. We are, in fact, a place for all seasons.

Nova Scotia climate details.

Today's weather from Environment Canada.

The Weather Network including pollen counts, UV index, air quality levels, plus road reports, snow mobiling and ski reports and more.

Marine weather.
---
What is it like to work and live in Nova Scotia?
You're not a Nova Scotian if you don't like fish! While a taste for seafood is not a prerequisite for living in the province, as this lyric from a popular Nova Scotian folk song suggests, the sea has a tremendous influence on the lives of everyone who lives here.
Traditionally many people have made their living either directly or indirectly from the fishery. Today, as one industry declines, another, tourism, fills the void and takes full advantage of all the beauty and pleasures of our coastal land. The addition of forestry, agriculture and more recently, the oil and gas industry, to the economic mix means Nova Scotians work hard but generally live comfortable lives. With the convenience of world-wide communication, many newcomers find this the ideal place from which to conduct their business.
Nova Scotians are proud of their culture and heritage, and it shows. Musicians and artisans lie around every corner, with each area of the province having its own local flavour. And speaking of flavours community suppers and teas are a way of life here - from maple syrup breakfasts to strawberry socials to solomon gundy (that's a South Shore delicacy made from pickled herring!) suppers - not to mention many fine restaurants, where, if you don't like fish, you can sample another famed Nova Scotian delicacy, Black Angus beef. Ask for it!
Many towns boast fine live theatre and, with Halifax only an hour or two from many areas of the province, a symphony and other urban amenities are close at hand.
Nova Scotia is a playground for outdoor enthusiasts, with sailing, golf, hunting, fishing and hiking very popular recreational activities.
Our provincial government web site will tell you even more about us.
Order Nova Scotia's official vacation guide, which includes information about provincial yacht clubs and golf courses online.
---
What do I need to enter Canada, how long can I stay when visiting my new property, and what if I like it so much I don't want to leave?
The rules are the rules! We know once you get here you won't want to go home, but the government says you have to.

Generally, customs agents will be looking for a valid passport when you enter Canada, but if you're an American citizen, a birth certificate and a photo ID will do. You can bring your dog and cat, as long as you accompany them and they have up-to-date vaccination papers.

Canada Customs says you can stay in Canada as a visitor for up to six months. You can apply for extensions to that term. If you do decide you just can't stand the thought of leaving, our Immigration Department would be happy to answer all your questions about permanent residency.
If you wish to speak to an immigration lawyer, try Scott Sterns of Merrick Jamieson Sterns Washington & Mahody.
For official government information on immigration and citizenship please visit Immigration Department
---
What do I need to know about buying property in Nova Scotia?
We are easy to get along with. Nova Scotians are known for their easy-going ways, but they are no push-over in business. Expect to pay fair market prices, relative to the popularity of the area. You'll be pleased to know that Come-From-Away (we fondly refer to those not born and bred here as CFAs) non-residents can get bank financing - usually up to 50 - 60 percent of the purchase value - for property purchases and that there are no limitations on land ownership. Our currency is Canadian dollars, offering excellent value to most foreign buyers.
---
What do I need to know to start a business in Nova Scotia?
Come on down! Nova Scotia's provincial government boldly states, "We are open for business".
You can find out more information, what they expect, incentives from the provincial government's website.
---
When should I visit Nova Scotia to look at properties?
We're waiting for you! The best time to visit Nova Scotia as a prospective property buyer is during the season during which you plan to spend the most time here. That said, the weather is pleasant for looking about from mid spring until early winter. Peak tourist season runs from June through September. While visiting Nova Scotia plan to make the most of your time and take in our many year-round sites and activities.
Excellent Nova Scotia information sites : Destination Nova Scotia, Doers & Dreamers Guide.

Make reservations or get more tourism information email Check-In Nova Scotia or call 1-800-565-0000 (toll free in North America).
---
Why else might I want to live in Nova Scotia?
The better question is, why wouldn't you want to live in Nova Scotia?! You've read all the statistics and details about what makes Nova Scotia a perfect location, but here are a few other bits and pieces you may want to make note of.
Low crime rates.
Singers Anne Murray, Rita MacNeil, and Hank Snow and actor Donald Sutherland were born here!
Some of the warmest beach waters north of Virginia.
Low taxes.
World-class medical care.
Low-stress lifestyle, adaptable to whatever pace you choose.
---